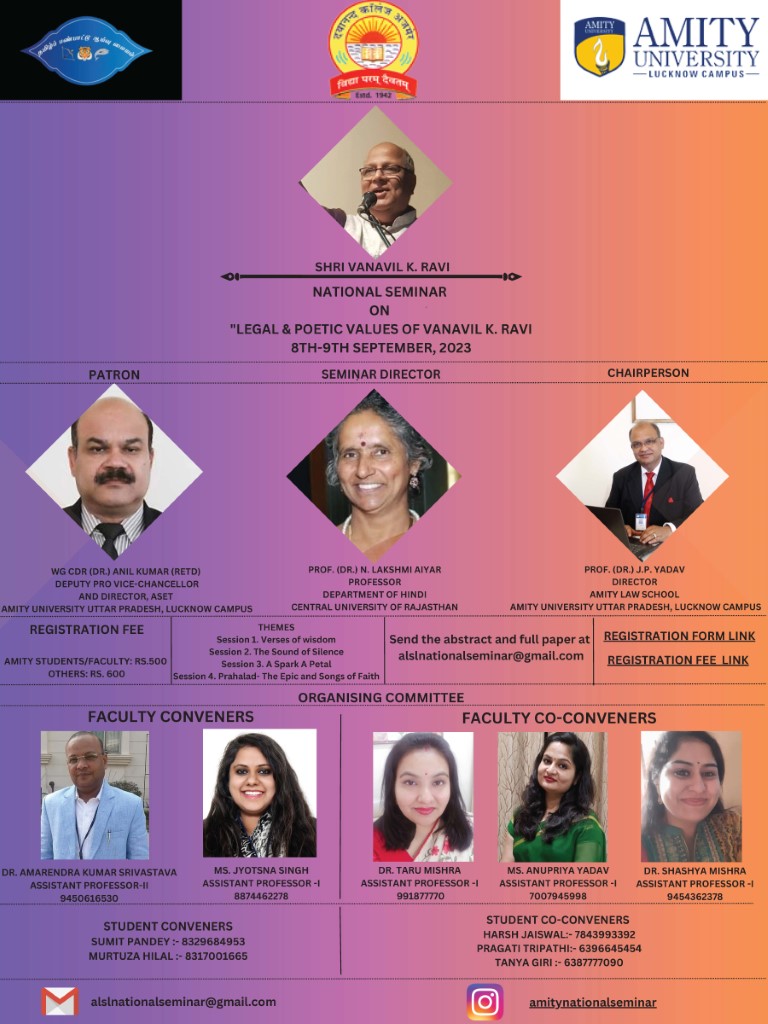 About the Organization
Amity Law School Lucknow Campus (ALS-L) is a constituent unit of Amity University, Uttar Pradesh & it was established in the year 2007 with the sole objective to impart research & innovation-driven education in the region. ALS is a fine blend of global education, training & research within an academic ambience. With the latest teaching methodologies, offers UGC-recognized Undergraduate & Postgraduate courses in the law discipline.
Amity Law School of Amity University Lucknow Campus is currently headed by Prof. (Dr.) J.P. Yadav. The Law School has successfully organized various events from time to time around the year like International and National Seminars, Law Fests and Carnivals, Workshops, National Quizzes, National & Intra Moot Court Competition and National Faculty Development Programs to name a few.
About the Seminar
If one wants to know the law of the land the best way is to understand the literature and culture of the land. In every society morals are important for maintaining social order. Law and morals are complementary and supplementary to each other. Indian Legal System and Judiciary has given enormous importance to the amalgamation of moral values and law for achieving the goal of prosperity. This bled law and morality has been beautifully explained by Vanavil K. Ravi in his numerous literary and poetic work. The present seminar tries to explore this blend of human values and society in the development of law. The Amity Law School is organizing a 2-day National Seminar on 'Legal and Poetic Value of Vanavil K. Ravi' from September 8th & 9th, 2023.
Eligibility
Law students and students interested in any interdisciplinary field
Academicians from various fields
Research scholars from Law / IT and other fields
Professionals (Legal / IT Professionals and other professionals)
Themes
Theme 1- Verses of Wisdom
Theme 2- The Sound of Silence
Theme 3- A Spark A Petal
Theme 4- Prahalad- The Epic and Songs of Faith
Submission Guidelines & Procedure
The title of the paper should be followed by:
Name,
Designation,
Name of the Organization / University / Institution and
E-mail address.
It is mandatory to mention the E-mail address, as all future correspondence will be through it.
Name and information of co-authors, if any, to the main author.
The abstract should exceed the limit of 250 words
The abstract shall have a maximum of 5 (five) relevant keywords.
Name of the Participant, Official Designation/Institution Details, Address and E-mail id, Title of Abstract, should be sent along with the Abstract in the given format.
Submit your abstract to alslnationalseminar@gmail.com
Note: Last Date for Abstract Submissions – 2nd of September 2023
For Registration And Payment
Registration Fee :
Professionals/ Faculty outside Amity – Rs. 600/-
Research Scholars- Rs.600/-
Students outside Amity -Rs.600/-
Amity Students – Rs.500/-
Accommodation and Travel
Accommodation will be provided on a first come first serve basis
Travel allowance will not be provided to any of the participants.
In the event that the paper is chosen for publishing in a book with an ISBN, the author must sign a statement relinquishing all copyright claims and certifying that all submissions are their genuine, original work, number of conferences held.
Certificate of Participation will be issued to all the participants as well as those who have submitted their abstracts with the required fee.
Contact Information:
For any information, contact: alslnationalseminar@gmail.com
Faculty Conveners:
Dr. Amarendra Kumar Srivastava (9450616530)
Ms. Jyotsna Singh (8874462278)
Student Conveners:
Sumit Pandey (8329684953)
Murtuza Hilal (8317001665)
Student Co-Conveners:
Harsh Jaiswal
Pragati Tripathi
Tanya Giri