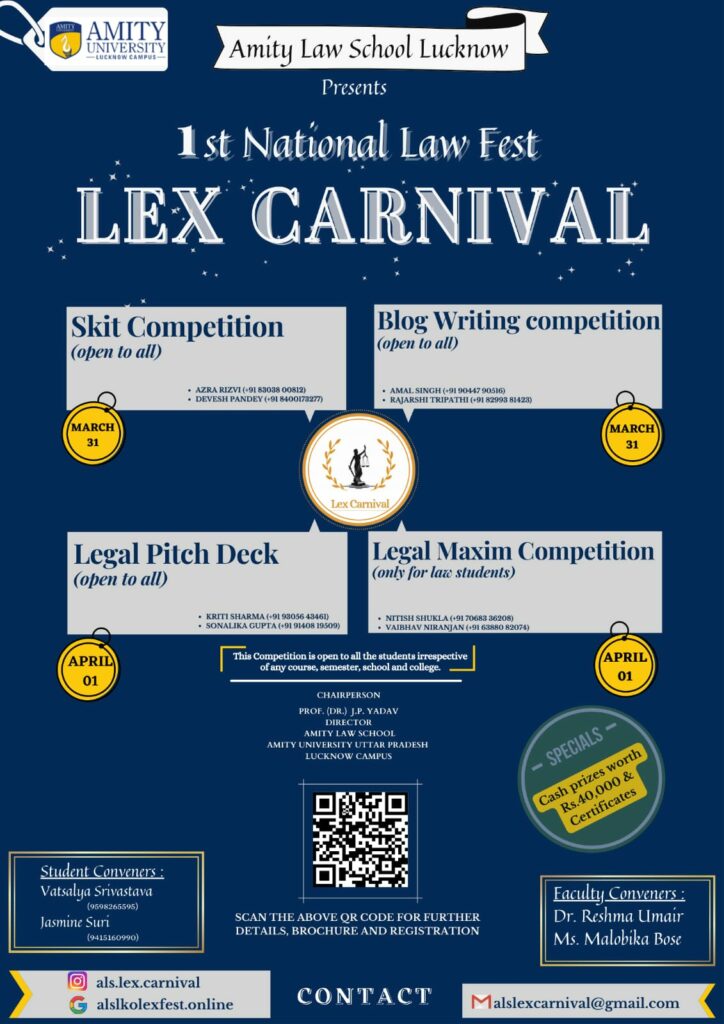 Amity University Uttar Pradesh Lucknow is organizing its 1st National Law Fest on March 31st and April 1st 2022
ABOUT THE ORGANIZATION
Amity University, Lucknow Campus is a part of India's leading educational group established with the objective to impart research and innovation-driven education consisting of remarkable infrastructure enabling the latest teaching methodologies. Amity University strives to inculcate a blend of modernity with traditionalism in all its students.
ABOUT THE EVENT
Lex carnival strives to provide a dynamic platform for students across the nation to showcase their socio-legal skills and basic acumen. It has a wide variety of completions that invite students from every field and course including the school students.
LIST OF EVENTS
ELIGIBILITY
School students (above 14 years of age)
Students from any semester, course, college, university and city.
MODE OF EVENT
Hybrid
HOW TO REGISTER
Registrations are open.
Last date of registration – 20th March 2022
For further details and registration please visit the website https://alslkolexfest.online/
PRIZES
Cash Prizes up to Rs. 40,000/-
Certificate of Merit to all Winners
Certificate to all participants
Letter of Recommendation for selective participants.
WEBSITE
BROCHURE
https://alslkolexfest.online/wp-content/uploads/2022/03/Lex-Carnival-By-ALS-Brochure.pdf
CONTACT INFORMATION
Email: alslexcarnival@gmail.com
Instagram handle : als.lex.carnival
Conveners
Jasmine Suri (9415160990)
Vatsalya Srivastava (9598265595)